Sat Nam!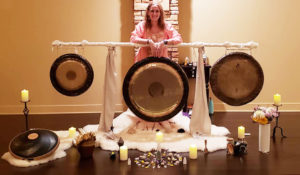 Meditation found Holly, which led her to yoga. She is a fearless and eternal student of life, music and healing with meditation and yoga being the school supplies. Forever dedicated to equal parts outdoor adventure, healing and learning, she spent several summers as a Wilderness First Responder/WW Raft Guide/Climber and even more winters Skiing the Rockies. Once she took pause and lived intentionally at an elevation of 12,000′ for a full summer with only her dog's company, it became clear that many answers already lie within us- we just have to listen, look and allow ourselves to fully feel everything. 
She is a Certified Sound Healing Practitioner, Reiki Master & RYT200 Yoga Teacher, a wife, mother, animal lover and avid 'outdoors woman'. Holly is a Reiki Master and completed her 200 hour yoga teacher training through Karma Yoga in Bloomfield Hills, Michigan then went on to study Yoga as Therapy with Doug Keller. She has studied and continues to study under Grand Gong Master Don Conreaux at Integral Yoga Institute in New York City. 
Holly offers 'Gong Sound Baths.' She brings her three symphonic gongs, specialty mallets,  double tounge drum, crystals, and more across the state of Michigan, and even across the border into Ontario. Past events include: Bloomfield Hills, Farmington, Grand Rapids, Okemos, Milford, Mt. Pleasant, Rockford, Southgate and across the border in Tecumseh Windsor, Ontario too.
She holds a permanent residence in West Bloomfield, Michigan with her husband of 20 years, two teenage boys and two Huskies.
"Plan B is where the adventure is."
~Holly Shay
Certified Sound Healing Practitioner, Reiki Master & RYT200
Namaste,
Piara Ravi Kaur
Holly Shay Reiki Master & RYT200

---
Join Piara Elementals Email List
Be the first to hear about upcoming events, special offers, and more.