Piara Elementals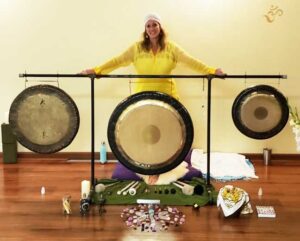 Holly Shay Rotter of Piara Elementals offers: Reiki   Yoga  Meditation  Gong Sound Therapy
Click here for a virtual gong soundbath
For the virtual Gong Sound Baths you will need:
● Headphones/earbuds
● Space to lay down comfortably with your body nice and lonnngg (PREFERABLY your bed)
● Trust. Enough trust to allow yourself to really let go and relax.
REMEMBER:
● There is no "wrong" way to do this
● If you don't feel peaceful right away I IMPLORE YOU to stay and focus on your breath until you do.
● Gong Sound Baths allow your body to get the TREMENDOUS benefits that this healing modality offers. A rested body and mind functions more efficiently and THIS offers an alternative to sleep aids, a new routine to look forward
🌻A few tips, suggestions, apprehension alleviators:
● Get into your spot before you 'show up'
● You don't have to be "presentable" (or even dressed for that matter)
● If you fall asleep, GREAT, if not, GREAT!
● You only need your ears but if you'd like to watch, that's fine too
● Anything you post WHILE I'M PLAYING won't be seen by me, so I can only answer questions before and after❤
🌻 It will come 🌻
Sat Nam! 
Meditation found Holly, which led her to yoga and the Gong Sound Bath. As a result, she remains a fearless and eternal student of life. Music, healing, meditation and yoga are her school supplies. She'll dedicate equal time to outdoor adventure, healing and learning. Above all, Holly's remained a true adventurer. Her vast and varied experiences include spending several summers as a Wilderness First Responder NOLS, Whitewater Raft Guide/Climber. Consequently, she's enjoyed even more winters Skiing the Rockies. Once Holly took pause and lived intentionally at an elevation of 12,000′ for a full summer with only her dog's company. Eventually and organically, it became clear that many answers already lie within us. Therefore, we just need to listen, look and allow ourselves to fully feel everything. 
 A Certified Sound Healing Practitioner, Reiki Master & RYT200 Yoga Teacher, Holly is also a wife, mother, animal lover and avid 'outdoors woman'. Furthermore, she became a Reiki Master and completed her 200 hour yoga teacher training through Karma Yoga in Bloomfield Hills Michigan. Moreover, she then went on to study Yoga as Therapy with Doug Keller. After that, she continued to study under Grand Gong Master Don Conreaux at Integral Yoga Institute in New York City. 
 Holly offers 'Gong Sound Baths.' She'll bring her three symphonic gongs, specialty mallets, double tongue drum, crystals, and more throughout the state of Michigan, and even across the borders into Ohio and Ontario. Piara Elementals Gong Sound bath bookings include: Blissfield, Bloomfield Hills, Clinton Twp., Farmington, Fremont, Grand Rapids, Holland, Okemos, Midland, Milford, Mt. Pleasant, Rockford, Southgate and across the state line into Oregon Ohio, and across the border to Tecumseh Windsor Ontario.
What to do at a Gong Sound Bath:
Find a seat or spot on the floor/ground
Get comfortable
Close your eyes
Lay back and relax…THAT'S IT!
 What you'll feel at a Gong Sound Bath
At first it's strange but TRUST IT and let the sound lull you
WON'T feel yourself falling asleep BUT you'll feel yourself waking up
MAY feel like you're drifting, floating, swimming or flying
MIGHT experience a clear memory
COULD experience an epiphany or solution to a problem
Stay relaxed and in your spot until I cue you to wake up

Holding a permanent residence in West Bloomfield, Michigan with her husband of 20 years, two teenage boys and two Huskies, Holly lives her Yoga and practices meditation.
"Plan B is where the adventure is."
~Holly Shay
RYT200, Yin, Hatha, Prenatal, Adaptive, Children, Senior
Gong Sound Bath Healing
Reiki Master
Meditation
Namaste,
Piara Ravi Kaur
Holly Shay Reiki Master & RYT200
info@piaraelementals.com
https://www.facebook.com/gongsoundbaths